We are going to join up with the Canadian Cats, Shoko and Tyebe, and The Weimie Twins. Da Pheeny and Da Nelly, this month for recipes all about tea.
We think this Watermelon Tea might be very refreshing on a hot day. If you do not want all the sugar that the recipe calls for, you can either reduce it or use a comparable amount of Stevia or Monkfruit. You might even find the sweetness of the watermelon is all you want/need. So taste first then add the sugar/sweetener.
Summertime Watermelon Tea Refresher
Ingredients:
4 tablespoons Royale Assam Tea (Or you could use tea bags if you prefer)(You can just use regular black or green tea if you prefer…)
4 cups cold water
3 1/2 cups diced watermelon (seedless or seeds removed)
2-4 tablespoons sugar, to taste
bunch of fresh mint leaves
1 orange, sliced OR 2 ounces triple sec
juice of 1 lemon OR 4 ounces citrus-flavored vodka
ice
Directions:
1) Add tea leaves and water to a 1-liter jar. Screw on lid and place in
the fridge at least 4-6 hours or overnight.
After the tea has steeped:
2) In a large pitcher, place all other ingredients except for ice and allow to sit for 15 minutes.
3) Strain the steeped/brewed tea through a sieve into the pitcher and stir gently to combine.
Scoop some of the watermelon into glasses, add ice, pour in tea, and serve!
~~~~~~~~~~~~~~~~~~~~~~~~~~~~~~~~~~~~
Hubby's Mom used to make what she called 'Sun Tea'. She would put several ordinary tea bags into a large clean/sterilized jar…a gallon size if I recall. (You could probably use 6 to 8 bags per gallon…and any kind of your fave regular tea, black or green, or maybe some flavor that would meld well with lemonade…such as hibiscus, rooibos, raspberry, or even a combo of those, etc) After the tea had steeped in her sunny window for several hours she would dump in a can of frozen lemonade concentrate, pink or yellow, no matter!). And fill the rest of the jar up to the top with cold water. Then that would go into the fridge to chill. Poured over ice! Mmmm! Refreshing and yummy, too. Easy peasy to make and even easier to drink! Only issue I have with that right now is all the sugar, I don't think I can find unsweetened frozen lemonade. But you could adapt this by using fresh squeezed lemons or even bottled lemon juice from the grocery shelves…(Look for organic, as that would not have any preservatives in it)…then sweeten to your own taste and needs.
1) 6-8 tea bags of choice
2) 1 can of lemonade concentrate
or:
1/2 cup Juice of 3 or 4 lemons, and up to 1/2 cup sugar/sweetener equivalent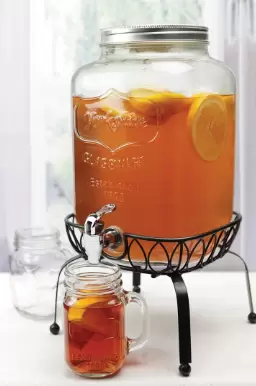 ~~~~~~~~~~~~~~~~~~~~~~~~~~~~~~~
Sometimes I just make a cup of hot tea, squeeze a lemon quarter into it, and sweeten it with some liquid stevia…mint or lemon or plain. Hot tea can be just as refreshing as iced, even on a hot day.
Enjoy your hot days now…remember Fall will be here in a couple months and we'll all wish the warm weather was back. LOL!
Powered by Linky Tools
Click here to enter your link and view this Linky Tools list…