This is a fun series of monthly posts for our yummy recipes, and The Canadian Cats, Shoko and Tyebe, and The Weimie Twins Phenny and Nellie host the event!
Oh, yes its February and that means its the month of love and Valentines…And what Valentine Sweetheart doesn't like a sweet treat now and then??!
So we asked for a good one that has no refined sugars and is Low Carb…ie: Keto Friendly.
We found one!
And its even got shades of red to please the Valentine spirits!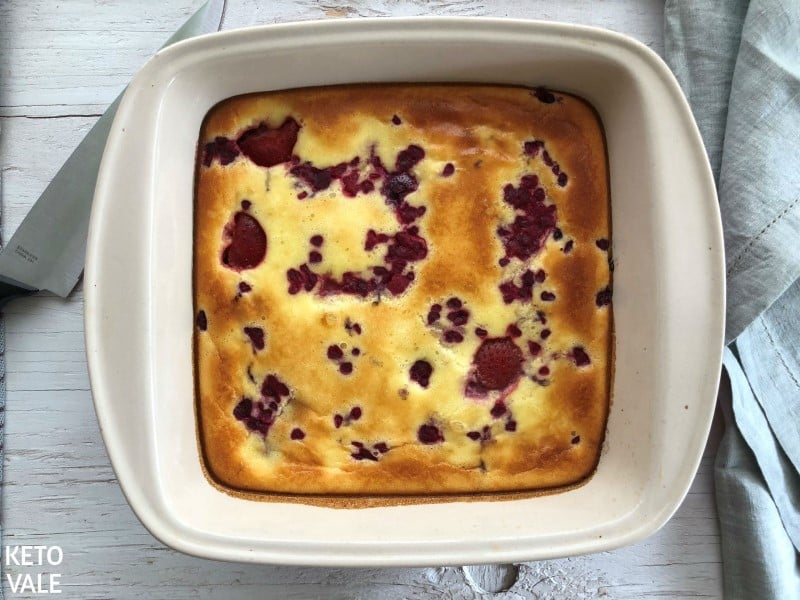 Warming Berry Pot (aka A crustless Cheesecake) (Keto friendly)
Ingredients:
2 large eggs, room temp.
8oz brick of cream cheese, Not 'lite'. Softened a bit.
1/2 cup sour cream, Not 'lite', room temp.
1/4 cup heavy whipping cream or coconut milk, full fat, room temp.
2 Tablespoons Swerve (Erythritol)
10-15 drops liquid Stevia
1 tablespoon freshly squeezed lemon juice, room temp.
1 teaspoon pure vanilla extract
2 cups fresh or frozen berries. We like raspberries the best! (But they are all yummy)
Method:
Preheat oven to 325F
Wash fresh berries and dry them. A salad spinner works well. NO need to wash frozen berries.
Whisk everything together till well blended except the berries. Gently stir in the berries or else put the batter in a small casserole dish, or in 6 ramekins, greased. Then distribute the berries evenly on top of the batter.
Bake for about 20 minutes or so, may need longer. Its done when thew top is caramelized and the custard is set.
Eat warm…or cool. Yummy with more berries on top, or a berry sauce, or even whipped cream! Be indulgent and put all the toppings on! LOL!
Its a winner in our home!!
Here is another similar recipe…
Keto Raspberry Cheesecake
6 eggs
1 cup raspberries
2/3 cup coconut oil (melted)
1/2 cup cream cheese (room temp)
1 teaspoon vanilla extract
1/2 teaspoon baking powder
4 tablespoons Stevia (granulated)*

(* this is a classic keto recipe, if you prefer a different sweetener substitute with pure maple syrup in equal amounts)
Preheat your oven to 325 degrees F. 

Line a tray with baking paper (about 8 by 8 inches).

In a large bowl, using a wooden spoon, mix the coconut oil and cream cheese well. Add the eggs, vanilla, baking powder and Stevia and beat with spoon until a runny batter forms – no lumps. Pour the batter into the tray. Scatter on the raspberries.

Bake for 25 mins. Allow to sit for 5 mins then cut into squares. 

Enjoy hot or cold!
Powered by Linky Tools
Click here to enter your link and view this Linky Tools list…